We offer professional service with quality for you, who needs 3D printed/modeled parts or items.

3D printing isn't only limited to plastic products but also
nylon or carbon fiber, bamboo, wood and other materials can be used to print.
Below you can see the phases of working with the customer from left to right:

Planning with the customer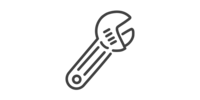 ---
3D modeling and scanning

We offer modeling and scanning for game developing, 3D-printing etc.

We use Fusion 360 modeling software for professional use

We make your model ready for the file format you want

After ordering a model, the model can also be sent straight to 3D printing
If needed, we use VR technology to model
With 3D scanning you can create a 3D model from an existing object which we can print if desired!

---
3D printing
Printing of 3D models

3D printing with material you want

Recommendations for materials that would be best for making your product

Guaranteed quality with high precision

Professional level FDM printers
---
Finish

Product processing and refining

We refine your product by hand and by machine

The end result is good and smooth
We fix any deformed spots

XTC processing is the chemical processing of a product in order to make it look like casted and gives it a shiny surface.
You can order finishing work to your product which contains: > Sanding by machine or by hand > Removal of Support-residue > Fixup of shape of the surface
---
We paint and varnish your product
We paint the product by hand

High-quality paints

We add finishing touches with varnish

You can enjoy your product with a ready paint job

Painting and varnishing done by hand to an item between the sizes 50 to 100 cm.
Painting and varnishing done by hand done to an item between sizes 15 to 50 cm high.
Painting and varnishing done by hand to items up to a height of 15 cm.
---
PC maintenance
We maintain and build PCs

We fix your PC - as good as new
We can also use parts to build a PC of your own liking

---
Lecture at Muhos 13.2.2019

We hosted a lecture about 3D printing and possibilities it brings and about the operation of Viikinkikone.

In training workshop Mahis at Muhos we spoke about 3D printing to youths with interest in the subject.
If you wish, you can book us to your workplace/school by contacting us.